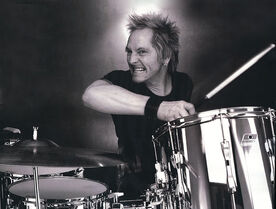 Matt Sorum is a former drummer for Guns N' Roses, appearing on all material released between 1991 and 1994.
Previous to Guns N' Roses, he was in Johnny Crash with Matt Sorum.
Since leaving Guns N' Roses, he has been active in working with his former bandmates, teaming up with Slash in Slash's Snakepit, with Duff McKagan in Neurotic Outsiders and with Slash and Duff McKagan in Velvet Revolver.
Discography
[
]
With Hawk
With Jeff Paris
With Y Kant Tori Read
With Guns N' Roses
With Slash's Snakepit
(1995)

It's Five O'Clock Somewhere
With Neurotic Outsiders
(1996)

Neurotic Outsiders
With The Cult
(2001) Beyond Good and Evil
With Velvet Revolver
(2004)

Contraband

(2007)

Libertad
With Johnny Crash
(2008) Unfinished Business
With Atif Aslam
(2011) The Dreamer Awakes By Lanny Cordola]]
Solo
Tourography
[
]