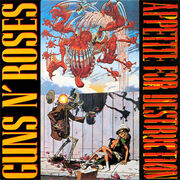 Appetite for Destruction is the debut studio album by Guns N' Roses, released on July 21, 1987 on Geffen Records. It is Guns N' Roses' highest selling and most critically acclaimed album, being certified 18 times platinum by the RIAA, with over 28 million copies sold worldwide. It is the highest selling debut album of all time in the United States, and is often ranked high on top rock album lists.
The album yielded six singles: "It's So Easy", "Welcome to the Jungle", "Sweet Child o' Mine", "Paradise City", "Nightrain", and "Mr. Brownstone" (UK Exclusive).
Track Listing
Personnel
Guns N' Roses
Additional personnel
Info
This is the best selling debut album of all time in the USA.
The original artwork was of a robot trying to rape a woman with a metal tooth creature jumping the robot. It was removed and replaced with the now famous skull cross logo.
Two of the singles are based off of living in Los Angeles ("Welcome To The Jungle" and "Paradise City")
This yielded the three most well-known Guns N' Roses songs: "Welcome To The Jungle", "Paradise City", and "Sweet Child O' Mine".
The song "Rocket Queen" features the voice of a Adriana Smith (on-off again girlfriend of Steven Adler) whom Axl had sex with in the studio during the guitar solo.
"You're Crazy" was later covered in an acoustic form on G' N' R' Lies.
Appetite 4 destruction.
Community content is available under
CC-BY-SA
unless otherwise noted.